Member Update 25 August 2022 | Term 3, Week 7
Welcome to Country
The VACPSP acknowledges the Traditional Custodians of the many lands that encompass our Catholic primary schools across Victoria – Ballarat, Sale, Sandhurst and the Archdiocese of Melbourne. The VACPSP recognise the Traditional Custodians culture and the continuing spiritual connection to land, sea and waters.

The VACPSP pay our respect to their Elders past, present and emerging and extend that respect to all Aboriginal and Torres Strait Islander peoples who live, work, teach and learn within Catholic education in Victoria.
We commit to working together to create culturally safe schools for all Aboriginal and Torres Strait Islander students to learn and thrive. As Principal leaders of our schools we commit to working together for reconciliation and justice.
From the President
It's not a secret that the fallout from the COVID-19 pandemic is ongoing and serious staff shortages continue to affect schools and you in your role as Principal. More worrisome, however, is the broader teacher shortage and the issues around teaching as a profession.
Recently there was a Teacher Workforce Roundtable where many stakeholders came together to discuss strategies for how the profession can attract and retain passionate candidates. At this meeting teachers were able to share the challenges they're facing with key Education Ministers. The Catholic primary voice was connected to this work via the Australian Catholic Primary Principal Association (ACPPA) engagement with the National Catholic Education Commission (NCEC). Following the Teacher Workforce Roundtable, ministers released a communique indicating they have agreed to the development of a National Teacher Workforce Action Plan. The federal Minister for Education, the Hon Jason Clare MP, has advised that input from teachers across Australia will help shape the Action Plan, to be developed over the coming months. The VACPSP will further be involved with this work as part of the Australian Primary Principals Association (APPA); a key voice representing you and your educational community.
On your behalf, we will advocate to have the primary voice heard! If there is something you want to share, if there is a particularly concerning situation at your school, or you have an idea about how to address the teacher shortage, please call or email me directly.
A quick note to draw your attention to the new VACPSP postal address. As of last week we have officially moved to:
P.O. Box 562, Flinders Lane VIC 8009
Moving school? Retiring? New email?
We do our best to keep the VACPSP database up to date to ensure we can best serve our members but need your help.
If you are moving, retiring or know someone who is please email admin@vacpsp.org.au with the details!
Education Ministers Meeting Communique
Australia's Education Ministers met with teachers, school leaders, and other education experts at Parliament House on 12 August 2022 to prioritise actions to address the issue of teacher
demand, supply and retention.
Catholic Education Priorities
National School Reform Agreement (NSRA)
The National School Reform Agreement (September 2021) is a joint agreement between the Commonwealth, States and Territories to lift student outcomes across Australian schools.
Reflecting the long-standing practice of collaboration between all governments to deliver school education, the National School Reform Agreement sets out 8 national policy initiatives against 3 reform directions that all parties have agreed to implement across the 5 years to December 2023.
The Agreement has been informed by the findings and recommendations of:
Submission from APPA June 2022 in response to the NSRA - Review of the National School Reform Agreement (NSRA) stating:
"The current NSRA fails to consider the needs of schools. It is a document which does to people without a mechanism to work with those impacted by the established priorities. APPA contends the current NSRA is well intended but wrong in its approach. It draws on traditions of governments rightly focussing on results-based accountability, but losing their way in stipulating far too many accountability metrics. Instead of creating flourishing organisations, this results in mediocrity, in a measurement induced mire, as schools struggle to respond to all of the 'bits', while missing the magnificence of the sunset."

NCEC Conference Program
The 2022 National Catholic Education Conference Program has been released! View it below:
ACPConnect Wellbeing Portal
Activate your account by emailing hello@acpconnect.com.au !
Sponsor Spotlight - Woods Furniture
Prayer

Loving and Generous God,
Awaken us to your presence as we continue to discern what is life-giving, empowering and sustainable for the good of all Catholic primary principals and the school communities we serve.
May our inspiration and commitment deepen as we work and gather in partnership to reflect on and respond to your call, the vision of the Gospel and the voice of the Spirit.
As dedicated, faith filled educational professionals help us to work collegially, lead with courage, build authentic relationships, and respect the voice of all in ensuring every young Australian has the opportunity for an excellent education in great schools.
Support us through this sacred work so that we radiate a sense of hope, A love of learning and a commitment to formation in faith.
Pour out your abundant blessings upon all involved in the ministry of leadership in Catholic education, we ask this through Christ, Our Lord, Amen.
Conclusion
I hope you enjoyed this newsletter update and a snapshot of the actions, connections and programs that the Association supports, leads or engages with on your behalf.
As always, I not only welcome but encourage active communication between myself and members and look forward to engaging with you in person, phone or by email.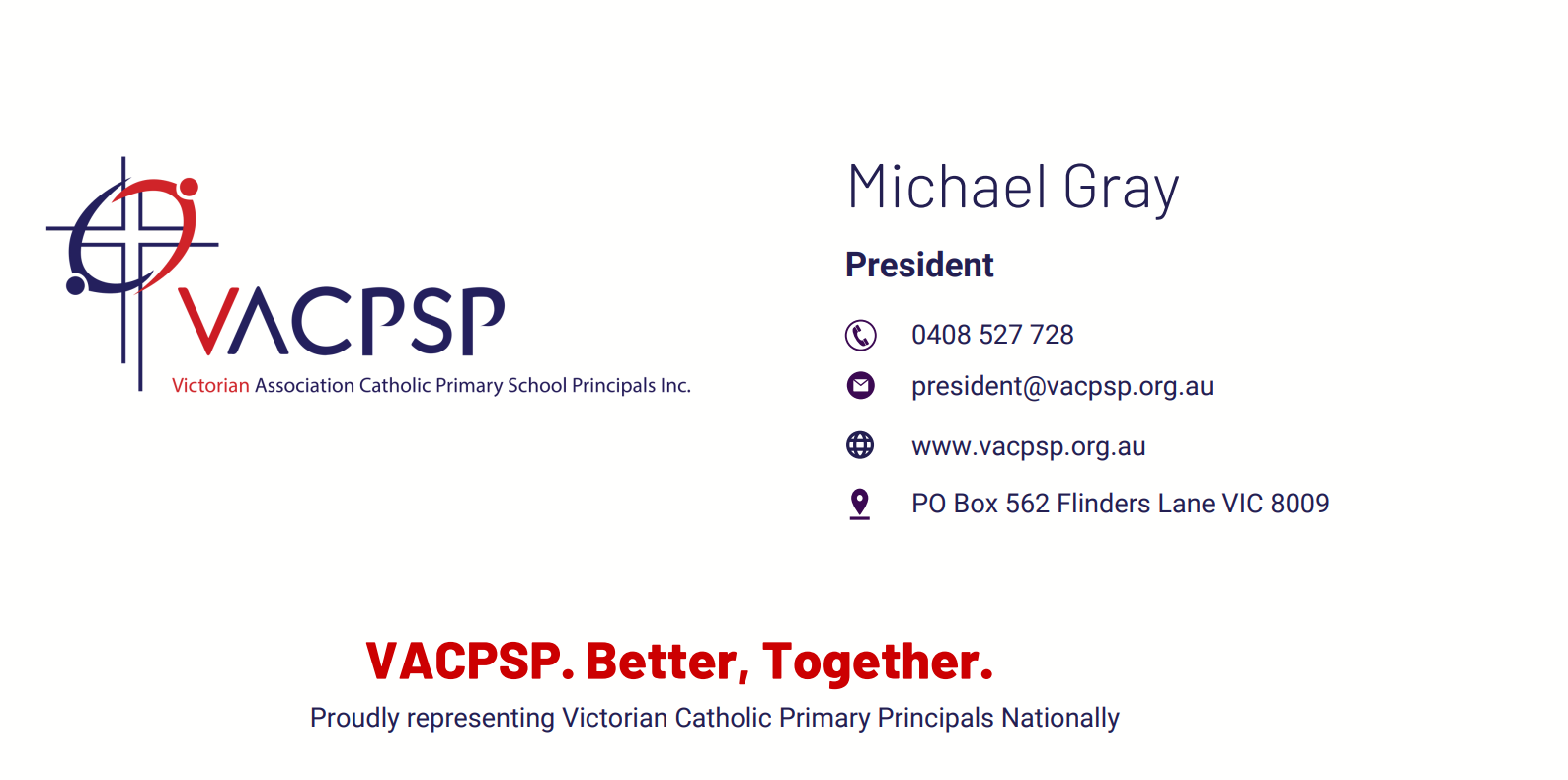 FOLLOW US ON SOCIAL MEDIA
Thank you to our Sponsors