Member Update 18 August 2022 | Term 3, Week 6
Welcome to Country
The VACPSP acknowledges the Traditional Custodians of the many lands that encompass our Catholic primary schools across Victoria – Ballarat, Sale, Sandhurst and the Archdiocese of Melbourne. The VACPSP recognise the Traditional Custodians culture and the continuing spiritual connection to land, sea and waters.

The VACPSP pay our respect to their Elders past, present and emerging and extend that respect to all Aboriginal and Torres Strait Islander peoples who live, work, teach and learn within Catholic education in Victoria.
We commit to working together to create culturally safe schools for all Aboriginal and Torres Strait Islander students to learn and thrive. As Principal leaders of our schools we commit to working together for reconciliation and justice.
From the President
I have had the pleasure of spending the past few days in sunny Brisbane to attend the Australian Catholic Primary Principal Association (ACPPA) Board Meeting and the Australian Primary Principal National Advisory Committee (NAC) meetings. It is so wonderful to be able to connect with peers from all over the country and I am proud to bring the Victorian Principal voice to these very important discussions.
At the national level the critical items that the VACPSP is focusing on include the extreme teacher shortage, a position paper for the national government's Education Reform agenda, and how education jurisdictions can and should support schools in meeting the growing wellbeing needs of young people.
Professor Frank Oberklaid, Paediatrician and Co Group Leader, Centre for Community Child Health, supported by the Murdoch Children's Research Institute, spoke to student wellbeing. Frank shared key insights and how through the Victorian Mental Health strategy, they are supporting Victorian schools. Catholic schools and low fee-paying independent schools have access to this progressive and very supportive strategy. Frank shared that prior to the pandemic most young people's wellbeing issues were external and obvious and presented in acting out behaviours, whereas through and post the pandemic the presenting issues have become more internal and around anxiety and low resilience.
Wellbeing support for leaders was also part of the National Catholic Association's (ACPPA) action plan. ACPPA has developed an Australian Principal wellbeing portal, ACPConnect. I encourage all of you to take a look at it and activate your free accounts as there are many beneficial resources for you in your professional and personal capacity. More details about the portal are in the body of this email.
Great news also about the 'Quality Initial Teacher Education' review. The meetings and paper have confirmed the critical issues impacting preparation for working in schools which include attraction of people to teaching, the selection of students for courses, the quality of Initial Teacher Education programs and the need for a dramatic increase of the focus on the Early Years of teaching. This work will lead to government policy and action to address our concerns.
A quick note to draw your attention to the new VACPSP postal address. As of last week we have officially moved to:
P.O. Box 562, Flinders Lane VIC 8009
Moving school? Retiring? New email?
We do our best to keep the VACPSP database up to date to ensure we can best serve our members but need your help.
If you are moving, retiring or know someone who is please email admin@vacpsp.org.au with the details!
Centre for Community Child Health: Video resources
Panellists: Anne Hollonds, Pasi Sahlberg, Leanne Rodriquez and Sharon Goldfeld (Host).
Over the two years of the pandemic  we have seen school and workplace closures, social distancing and changes to everyday life disrupt the lives of children and families. However, the disruptions associated with the public health responses have also included free childcare, income support and accommodation for those experiencing homelessness. This webinar bought together expertise in research, policy, education, and practice to reflect on the emerging effects of the COVID-19 pandemic on children and families, and share promising or innovative ideas for strategies to reduce inequity and optimise opportunities. 
Panellists: Professor Frank Oberklaid, Dr Jon Quach, Dr Georgia Dawson and Gita Peterson.
Schools are an ideal platform to address children's mental health issues. This webinar described a new model of school mental health support – the Mental Health in Primary Schools (MHiPS) project – which places a trained Mental Health and Wellbeing Coordinator as an additional resource in primary schools.
ACPConnect Wellbeing Portal
Activate your account by emailing hello@acpconnect.com.au !
Funding Opportunity: Schools Plus
Schools seeking funding for strategic projects or professional learning opportunities can now apply for grants of up to $60,000 through national education charity Schools Plus.
Grants of $20,000 – $60,000 are available for strategic school projects designed to improve student outcomes. For more information on the types of grants available, visit schoolsplus.org.au/for-schools/grants/
Until Friday 9 September, eligible schools can submit a simple application to receive funding for their strategic project or professional learning. Both individual schools and clusters of 4-10 schools can apply, across all states and sectors.
Schools Plus is a national not-for-profit that helps close the education gap caused by disadvantage. Their work empowers teachers in disadvantaged communities with funding, coaching and resources to help their students succeed. Since 2015, Schools Plus has supported over 1200 school projects around Australia, benefiting more than 400,000 students and 35,000 teachers.
Schools eligible for support through Schools Plus must have a value below 1000 on the Index of Community Socio-Educational Advantage (ICSEA).
For more information and to apply, visit www.schoolsplus.org.au/grants/.
Sponsor Spotlight - footsteps
It's budget time, and we would love to help you with your school concert in 2023. Take all the teacher stress out and watch our talented instructor engage your students.
Contact us today for a quotation at dance@footsteps.com.au.
Sponsor Spotlight - Woods Furniture
Prayer

Loving and Generous God,
Awaken us to your presence as we continue to discern what is life-giving, empowering and sustainable for the good of all Catholic primary principals and the school communities we serve.
May our inspiration and commitment deepen as we work and gather in partnership to reflect on and respond to your call, the vision of the Gospel and the voice of the Spirit.
As dedicated, faith filled educational professionals help us to work collegially, lead with courage, build authentic relationships, and respect the voice of all in ensuring every young Australian has the opportunity for an excellent education in great schools.
Support us through this sacred work so that we radiate a sense of hope, A love of learning and a commitment to formation in faith.
Pour out your abundant blessings upon all involved in the ministry of leadership in Catholic education, we ask this through Christ, Our Lord, Amen.
Conclusion
I hope you enjoyed this newsletter update and a snapshot of the actions, connections and programs that the Association supports, leads or engages with on your behalf.
As always, I not only welcome but encourage active communication between myself and members and look forward to engaging with you in person, phone or by email.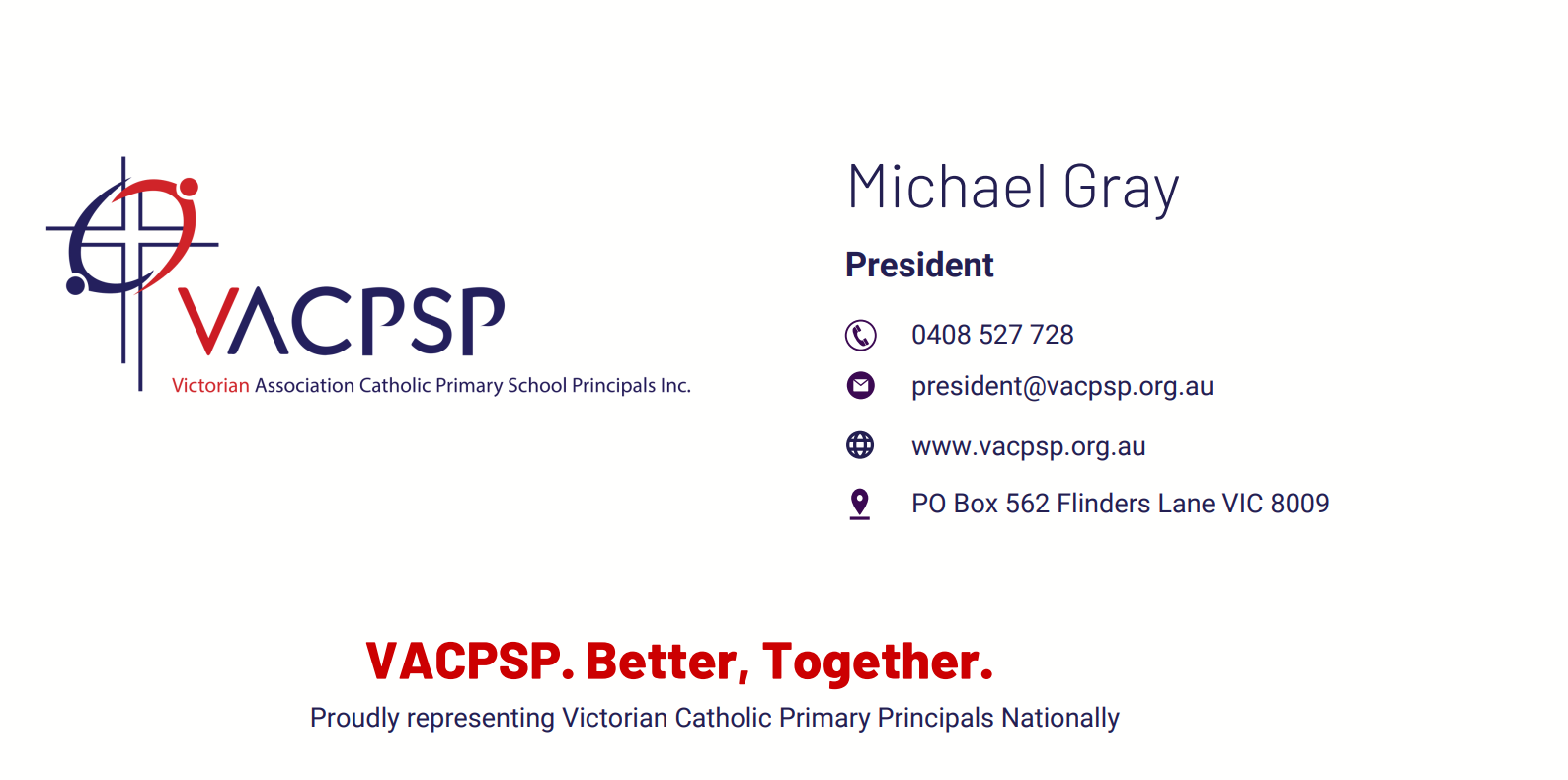 FOLLOW US ON SOCIAL MEDIA
Thank you to our Sponsors