Member Update 11 August 2022 | Term 3, Week 5
Welcome to Country
The VACPSP acknowledges the Traditional Custodians of the many lands that encompass our Catholic primary schools across Victoria – Ballarat, Sale, Sandhurst and the Archdiocese of Melbourne. The VACPSP recognise the Traditional Custodians culture and the continuing spiritual connection to land, sea and waters.

The VACPSP pay our respect to their Elders past, present and emerging and extend that respect to all Aboriginal and Torres Strait Islander peoples who live, work, teach and learn within Catholic education in Victoria.
We commit to working together to create culturally safe schools for all Aboriginal and Torres Strait Islander students to learn and thrive. As Principal leaders of our schools we commit to working together for reconciliation and justice.
From the President
Last week we celebrated Australian Primary Principal Day 2022. It is on these days we stop our busy lives to take stock of what we have achieved individually and collectively as education and faith leaders. I would like to personally thank you all for your commitment and hard work in furthering education in Victoria. I would also like to acknowledge that the role is not easy! Principalship comes with its challenges, often daily, but the rewards are of real significance and your actions are positively impacting the trajectory of so many young lives.
I hope you were able to celebrate yourself and your peers and were shown support by your wonderful communities!
"The work you do changes lives."

— Minister for Education, the Hon Jason Clare MP
Australian Primary Principals Day: "The work you do changes lives."
A message from Minister for Education, the Hon Jason Clare MP
Minister for Education, the Hon Jason Clare MP, shares his acknowledgement of and appreciation for the incredibly valuable work our nation's primary Principals do every day.
Together with the Minister and APPA, we celebrate and thank every primary Principal.
We hope you had a wonderful Principals Day!
Please use link below to watch video. The video image is unfortunately unable to be linked.
AERO (The Australian Education Research Organisation)
The Australian Education Research Organisation (AERO) is Australia's independent education evidence body.
AERO's vision is for Australia to achieve excellence and equity in educational outcomes for all children and young people through effective use of evidence.
In support of this vision, they:
- generate high-quality evidence
- present high-quality evidence that is relevant and accessible
- encourage adoption and effective implementation of evidence in practice and policy.
From APPA
Review of the National School Reform Agreement (NSRA) June, 2022
An NSRA for Reform
The NSRA can be a tool for reform. In this submission, the Australian Primary Principals Association sets out an agenda which can invigorate and stimulate education and improve outcomes. We want to develop partnerships with governments which we are confident will create an environment where education can flourish, where creativity can thrive and children are nurtured. It is not a quick fix, but it is an attempt to acknowledge the lived experience of educators, researchers and policy developers, working together.
The current NSRA fails to consider the needs of schools. It is a document which does to people without a mechanism to work with those impacted by the established priorities. APPA contends the current NSRA is well intended but wrong in its approach. It draws on traditions of governments rightly focussing on results-based accountability, but losing their way in stipulating far too many accountability metrics. Instead of creating flourishing organisations, this results in mediocrity, in a measurement induced mire, as schools struggle to respond to all of the 'bits', while missing the magnificence of the sunset.1
APPA calls for the next NSRA to be a catalyst for real school reform. What does it look like for governments to enter into a National Reform Agreement which is focussed on a new way of working, which harnesses the energy of professionals working in the area to achieve mutually desired results? What it shouldn't be, is more of the same, of more and more measuring in the hope that results come from increased micromanagement and falsely premised accountability. School-based personnel feel confined by a morass of measurement which kills initiative and creativity. Which inhibits schools responding individually, community by community, to pressing local needs.
A total rethink of educational policy is needed. Schools are well versed in using evidence-based research to support changing practice but Australian educational indicators are not showing improvement. It is time we insist that evidence-based policy settings are also adopted. Where is the evidence that policy settings such as those established in the current NSRA are effective and resulting in the agreed outcomes? Let us show courage and conviction and work together to make a difference. The victims of inaction, are Australian children, in particular those who are the most vulnerable.
1 Whitehead, A. N. (1926). When you understand all about the sun and all about the atmosphere and all about the rotation of the earth, you may still miss the radiance of the sunset.

APPA's Five Step Agenda for Reform
APPA's submission focuses on changes which provide opportunities to review and reimagine the future of education in this country. APPA is calling for the establishment of respectful, professional partnerships which enhance educational opportunities for children. Underpinning this agenda are five principles for action:
1. The need for policy development input from schools
2. Equality
3. Interagency and NGO coordination.
4. Accountability –
a) Establishment of a manageable matrix of measures to assess the health of the whole system
b) National testing to focus on system performance, not that of the child.
5, A New Primary Curriculum.
Step One. The need for policy development input from schools
APPA calls on governments to establish a mechanism to work with schools and school jurisdictions in developing policy and assessing policy impacts.
Schools need input into decisions that impact them. While it is recognised that Governments set policy agendas, those policy agendas can and should be enriched by a school perspective. Working with schools in the continuing refinement of policy propositions (Stenhouse, 1975), enhances policy outcomes. Working with schools to assess the practicality of policy propositions creates a mutually respectful partnership and an increased likelihood of policy implementation success. Such an approach allows for greater responsiveness in better meeting the needs of children and should lessen the intensification of work demands on principals and school staff.
In recent years, the intensification of the work-load for principals and teachers has been cruel – probably unintentionally so, but cruel nonetheless. And it highlights the need for a reformation in how policy development and enactment occur. Policy makers must consider any policy proposition from the perspective of schools – and that perspective is of the school as a whole, not the perspective of the multiple competing demands of numerous silos. When the bureaucracy is organised in silos, each of which transmits their edicts to schools without the crucial test of practicality, this adds to the intensification of work for school practitioners. Principals should not be put under the additional pressure of balancing the often contradictory and competing demands of the silos, to make them work in practice.
Serious school reform needs to look at structuring a school/bureaucracy interface which works – an interface premised on working with schools in developing workable policy positions.

Sponsor Spotlight - footsteps
It's budget time, and we would love to help you with your school concert in 2023. Take all the teacher stress out and watch our talented instructor engage your students.
Contact us today for a quotation at dance@footsteps.com.au.
Food for Thought
Pivot Research: Wellbeing for Learning: Evidence Brief on Student Wellbeing from a Pilot in Schools
This report was the basis of a webinar at which APPA, ASPA and a representative from NZ, discussed the issues raised in the report. As one of the speakers, my key take away from the report was the urgency with which policy makers, professionals and, most importantly, parents must act.
Prayer

Loving and Generous God,
Awaken us to your presence as we continue to discern what is life-giving, empowering and sustainable for the good of all Catholic primary principals and the school communities we serve.
May our inspiration and commitment deepen as we work and gather in partnership to reflect on and respond to your call, the vision of the Gospel and the voice of the Spirit.
As dedicated, faith filled educational professionals help us to work collegially, lead with courage, build authentic relationships, and respect the voice of all in ensuring every young Australian has the opportunity for an excellent education in great schools.
Support us through this sacred work so that we radiate a sense of hope, A love of learning and a commitment to formation in faith.
Pour out your abundant blessings upon all involved in the ministry of leadership in Catholic education, we ask this through Christ, Our Lord, Amen.
Conclusion
I hope you enjoyed this newsletter update and a snapshot of the actions, connections and programs that the Association supports, leads or engages with on your behalf.
As always, I not only welcome but encourage active communication between myself and members and look forward to engaging with you in person, phone or by email.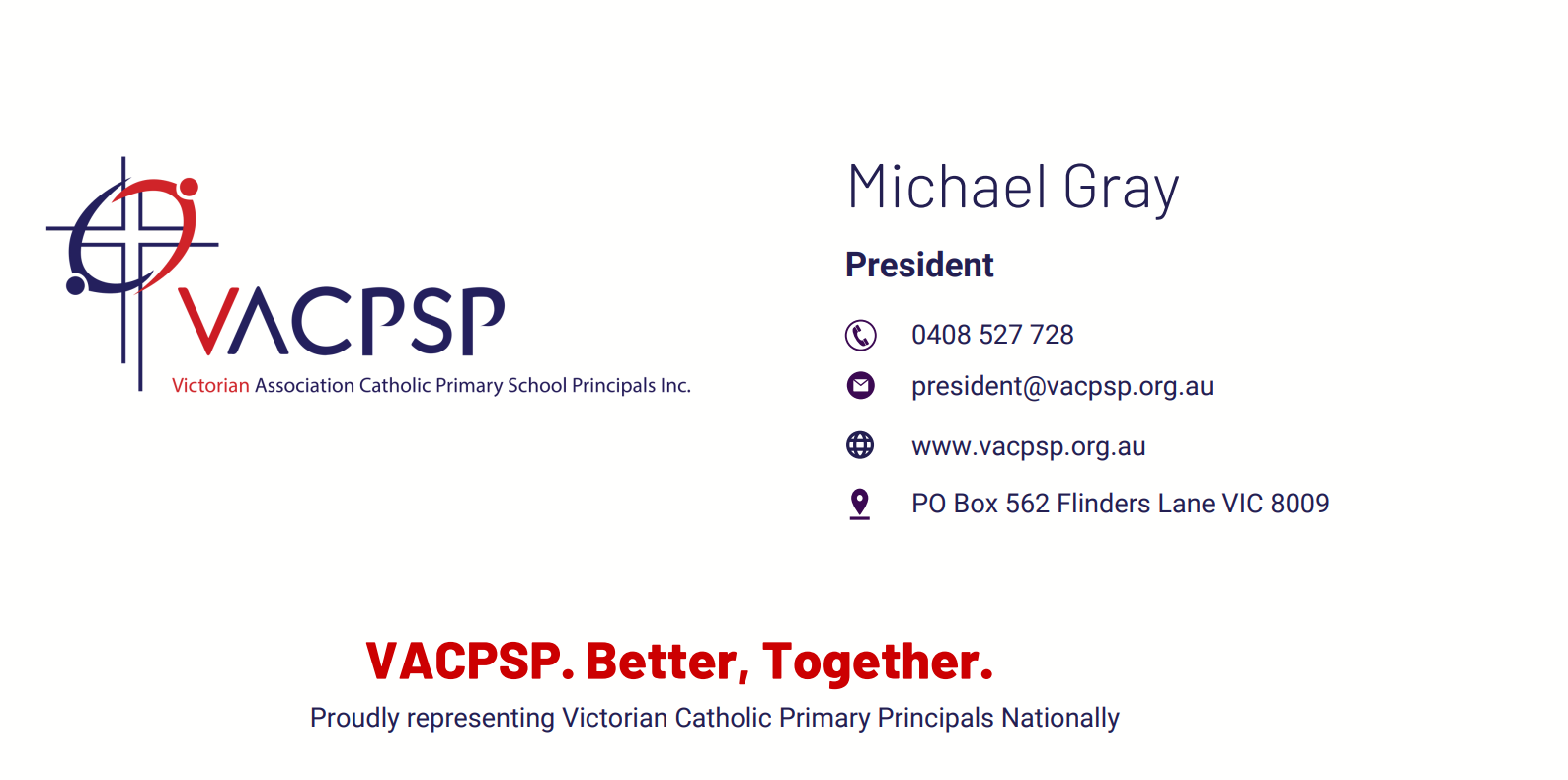 FOLLOW US ON SOCIAL MEDIA
Thank you to our Sponsors