Member Update 4 August 2022 | Term 3, Week 4
Welcome to Country
The VACPSP acknowledges the Traditional Custodians of the many lands that encompass our Catholic primary schools across Victoria – Ballarat, Sale, Sandhurst and the Archdiocese of Melbourne. The VACPSP recognise the Traditional Custodians culture and the continuing spiritual connection to land, sea and waters.

The VACPSP pay our respect to their Elders past, present and emerging and extend that respect to all Aboriginal and Torres Strait Islander peoples who live, work, teach and learn within Catholic education in Victoria.
We commit to working together to create culturally safe schools for all Aboriginal and Torres Strait Islander students to learn and thrive. As Principal leaders of our schools we commit to working together for reconciliation and justice.
From the President
As Principals, it is the leadership questions we ask ourselves every day that shape what we do in our schools. Asking these questions is critical in informing the education choices that will help our learners grow, prosper and flourish.
In the business of education panning for "tomorrow" is fundamental. The young people we work with are entitled to be future-ready and is our responsibility as leaders to facilitate this by having one eye on today (the fundamental building blocks of learning) and one eye on tomorrow (what skills, disposition and creativity will students need to connect meaningfully with their future?).
It is in this spirit of discerning and thinking about the future that I draw your attention to the work of the CSIRO (The Commonwealth Scientific and Industrial Research Organisations). This body is the Australian government's corporate entity with a mission to improve the lives of people everywhere with science.
Last week the CSIRO's leader, Dr Larry Marshall, spoke at the National Press Club. Dr Marshall spoke to the CSIRO's once-in-a-decade report; "Our Future World". This report identifies seven global megatrends that hold the key to both the challenges and opportunities ahead for our world. This document supports many of the presentations that we experienced earlier this year at our VACPSP conference.
The CSIRO has spent nearly a century working for all Australians and has advanced Australia with a range of inventions and innovations. The influence of the CSIRO has extended across the globe with various advancements including fast WIFI, polymer banknotes, the CSIRO Total Wellbeing Diet and believe it or not Aeroguard!
As National Science Week (13-21 August 2022) approaches, I encourage you to take some time to explore this resource and free learning opportunity. Links are provided to the CSIRO megatrend report and the ABC iView link to Dr Larry Marshall's National Press Club presentation.
"Australia is at a pivotal point. There is a tidal wave of disruption on the way, and it's critical we take steps now to get ahead of it."

— CSIRO Chief Executive Dr Larry Marshall
CSIRO Report
Seven megatrends that will shape the next 20 years: CSIRO Report
A once-in-a-decade report from CSIRO, Australia's national science agency, identifies seven global megatrends that hold the key to the challenges and opportunities ahead.
On ivew, Dr Larry Marshall, Chief Executive of CSIRO, Australia's national science agency and innovation catalyst, addresses the National Press Club to launch the 2022 'Our future World' report.
(When searching on iview, click on programs A-Z > search 'National Press Club' > click on 'Presentation Dr Larry Marshall, Chief Executive or CSIRO).
Science Week Resource
The Australian Science Teachers Association (ASTA), has produced this wonderful resource book of ideas for the 2022 Science Week which is between 13 - 21 August.
The theme for this year is "Glass: More than meets the eye" and the booklet contains many interesting ideas that could be incorpoated into classroom teaching and learning.
Explore resource below:
Important Items for You
New Australian Curriculum website with improved functionality
The new Australian Curriculum Version 9.0 website, which houses the updated curriculum, has now gone live.
The new website is one of the few digitalised curriculums in the world and has a range of features to help teachers view, explore and plan. The new website has been designed with teachers for teachers, and teachers from across Australia have been involved in user experience testing.

Consultations open for Australian Curriculum: Languages
Proposed revisions to the Australian Curriculum: Languages (German, Indonesian, Korean, Modern Greek and Spanish) for Foundation – Year 10 (F–10) have now been released for public comment.

The Review of the Australian Curriculum commenced in 2020–2021 and resulted in the April 2022 endorsement of the Australian Curriculum, Version 9.0, which was released on the new website.

The Review's terms of reference provided for the Languages curricula to be reviewed and endorsed in phases, with the languages French, Japanese, Chinese and Italian already reviewed and endorsed as part of the first phase of the Australian Curriculum Review.

The remaining 12 languages of the Australian Curriculum are to be finalised by the end of 2023, with public consultation now open for 10 weeks on German, Indonesian, Korean, Modern Greek and Spanish.

Public feedback is sought via the consultation website from 31 May to 9 August 2022.
RMIT Research Opportunity - Mental Health
RMIT Honours Student, Laura Martin, has contacted the VACPSP to promote interest in her research project investigating what the average Victorian teacher knows about common mental health disorders. This information could help professionals create better teacher-specific mental health training programs. Participation involves answering an approximately 30-minute online survey.
Sponsor Spotlight - ASCA
ACSA is a not-for-profit member association of schools, working with over 100 supplier partners to deliver the best value for your school and canteen, saving over $10 million per annum for our members.
As a not-for-profit organisation, the welfare of children in your schools has always been paramount. Whether we are helping you in your canteen to deliver more healthy, better value meals, or simply ensuring that you get best value for your school budget; our aim is to assist you to provide the best education to your students, whilst contributing to Australian charities that support the education of vulnerable children.
Over the last 40+ years, ASCA has contributed almost $3 million to our charity partners like The Smith Family, St Vincent de Paul, Stewart House and AEIOU.
Visit https://www.asca.com.au/ to learn more about how we can help your school, and make sure you read your Termly Smart School Newsletters and monthly emails to keep up with the latest products and services from our innovative Preferred Supplier partners.
To ensure our email reaches your inbox, please add membership@asca.com.au to your address book.
Sponsor Spotlight - Officeworks
Officeworks would like to share their new eFlyers about their new BTS (Back to School) offer, Classroom Essentials Service.
Food for Thought
"Many Lands, Many Seasons" series on ABC iview
This series explores six Aboriginal seasonal calendars to find out how the unique knowledge they contain helps the traditional owners to hunt, fish and collect bush tucker at the best time!
Prayer

Loving and Generous God,
Awaken us to your presence as we continue to discern what is life-giving, empowering and sustainable for the good of all Catholic primary principals and the school communities we serve.
May our inspiration and commitment deepen as we work and gather in partnership to reflect on and respond to your call, the vision of the Gospel and the voice of the Spirit.
As dedicated, faith filled educational professionals help us to work collegially, lead with courage, build authentic relationships, and respect the voice of all in ensuring every young Australian has the opportunity for an excellent education in great schools.
Support us through this sacred work so that we radiate a sense of hope, A love of learning and a commitment to formation in faith.
Pour out your abundant blessings upon all involved in the ministry of leadership in Catholic education, we ask this through Christ, Our Lord, Amen.
Conclusion
I hope you enjoyed this newsletter update and a snapshot of the actions, connections and programs that the Association supports, leads or engages with on your behalf.
As always, I not only welcome but encourage active communication between myself and members and look forward to engaging with you in person, phone or by email.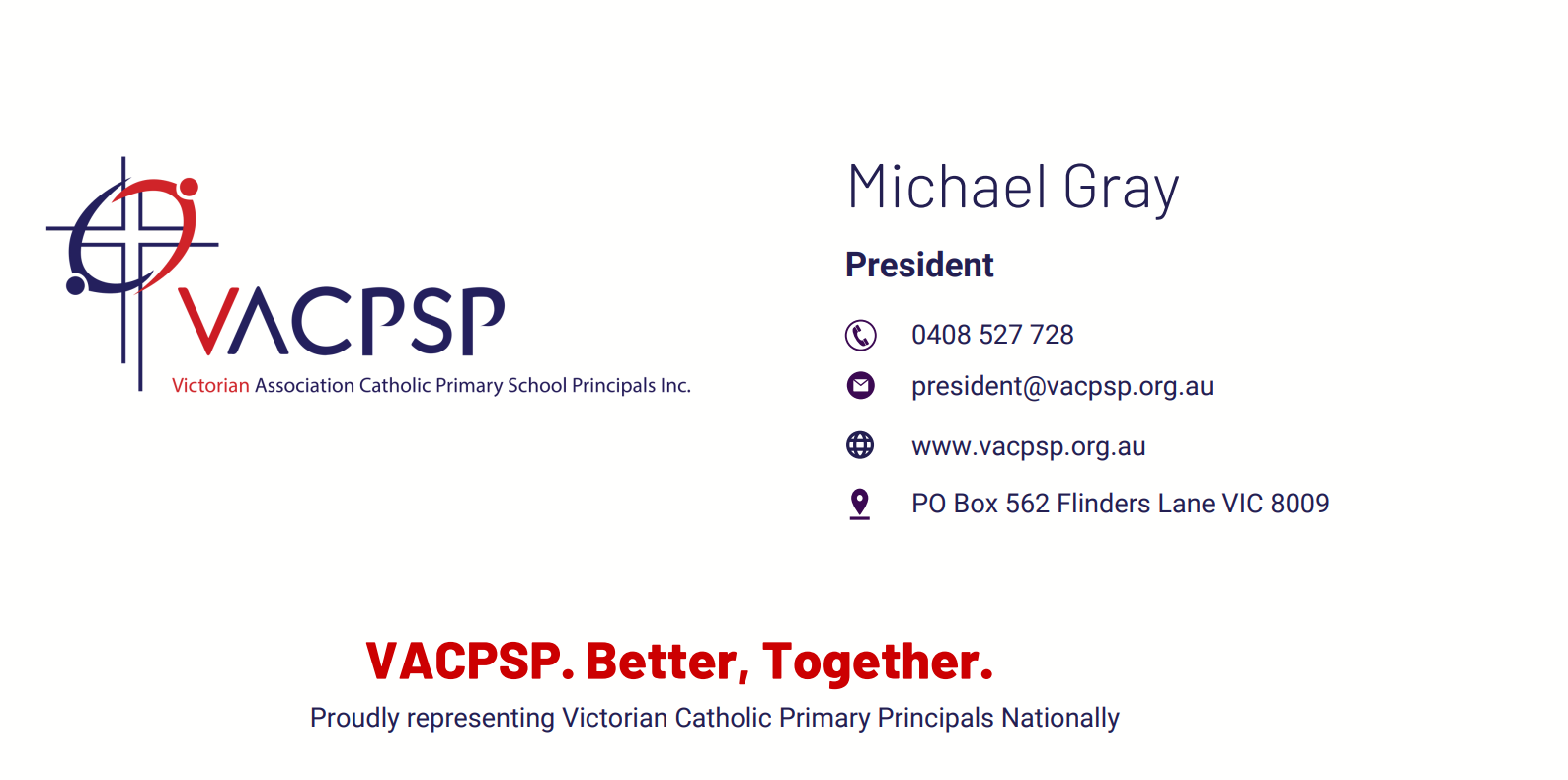 FOLLOW US ON SOCIAL MEDIA
Thank you to our Sponsors