Member Update 8 September 2022 | Term 3, Week 9
Welcome to Country
The VACPSP acknowledges the Traditional Custodians of the many lands that encompass our Catholic primary schools across Victoria – Ballarat, Sale, Sandhurst and the Archdiocese of Melbourne. The VACPSP recognise the Traditional Custodians culture and the continuing spiritual connection to land, sea and waters.

The VACPSP pay our respect to their Elders past, present and emerging and extend that respect to all Aboriginal and Torres Strait Islander peoples who live, work, teach and learn within Catholic education in Victoria.
We commit to working together to create culturally safe schools for all Aboriginal and Torres Strait Islander students to learn and thrive. As Principal leaders of our schools we commit to working together for reconciliation and justice.
From the President
As many of you are aware, this week I attended the NCEC Conference in Melbourne. Hosted by National Catholic Education Commission (NCEC) and Melbourne Archdiocese Catholic Schools (MACS), the conference was an invaluable opportunity to network and be exposed to the future planning of Catholic education in Australia. The theme this year was "The Future is Listening". To me that means that now is a crucial time for leaders in the education space to come together to make the best decisions possible for planning for a prosperous future and flourishing Catholic learning communities across Australia. I have taken the time to learn and reflect and think deeply about the influential and necessary role of the VACPSP in the education space.
Amongst the many highlights of the conference, Paul Colyer (ACPPA) gave a fantastic presentation on the Initial Teacher Education research paper, the executive summary of which I have included for your perusal. I encourage you to read this paper and take time to consider how it may be applicable to you in your role as Principal. On that note, I take this opportunity to farewell Paul from his role as Executive Officer of ACPPA. For the past five years Paul has been a wonderful asset to ACPPA and his hard work, professionalism and determination has really put ACPPA 'on the map'; making great connections with the NCEC and Directors across the Country. I wish Paul all the very best for the future and look forward to watching what the next step holds for him.
With the end of term nearing, this will be the last newsletter until next term. I hope you can take the term break to rest and reset and focus on your own wellbeing. Over the break I will be visiting my son in Darwin who has been doing some very interesting work teaching in the Tiwi Islands. I look forward to being enriched by this experience, as well as having an opportunity to spend with family.
Also in this newsletter:
* Executive Summary of ACPPA Research Project Series: Initial Teacher Education - Principals' perspectives on ITE and ways to collaborate and improve the process into the future
* Staffing Announcement from ACPPA
* AGM information
* ACPConnect new activation video guide
* Principal Health & Wellbeing Survey information
* Sponsor Spotlight: B2 Architecture
A quick note to draw your attention to the new VACPSP postal address. As of last week we have officially moved to:
P.O. Box 562, Flinders Lane VIC 8009
Moving school? Retiring? New email?
We do our best to keep the VACPSP database up to date to ensure we can best serve our members but need your help.
If you are moving, retiring or know someone who is please email admin@vacpsp.org.au with the details!
ITE Executive Summary Report
Paul Coyler (ACPPA) presented at this weeks NCEC Conference on the "Initial Teacher Education Project".
Read the Executive Summary of ACPPA Research Project Series: Initial Teacher Education - Principals' perspectives on ITE and ways to collaborate and improve the process into the future.
Staffing Announcement from ACPPA
Dear members of the ACPPA Board,
I am writing to inform you that our EO Paul Colyer, has accepted a position with Caritas Australia and will be leaving our organisation in the middle of October.
Paul is the first executive officer of ACPPA, taking on the position in 2017. During this time, he has worked diligently supporting the work of the president and the board through the daily work of the association.
This has included preparation and research on several important key projects, including the incorporation of our association, our rebranding, key strategic planning, and the delivery of ACPConnect, the principal well-being portal, in partnership with Brennan Law.
Paul has used his prior experience as a principal to provide a level of insight to the position that has proved highly valuable to the president, management team, board, and the association.
Paul has become the visible face of ACPPA, with our directors, our partners and sponsors. The management team will commence work shortly to find a replacement for some very large shoes!
We congratulate Paul on this next important step in his personal life and career and thank him for the hard work done for our organisation during his tenure as EO.
The management team will be meeting later this week to put a succession plan in place and will keep you informed of our progress.
Regards
Peter Cutrona
President
Australian Catholic Primary Principals Association
AGM
Please note VACPSP AGM is on 14 October 2022 and will be by video link. Details to be provided in due course.
ACPConnect Wellbeing Portal
Activate your account by emailing hello@acpconnect.com.au !
NEW guide to activation video: https://vimeo.com/742508214
The Australian Principal Health & Wellbeing survey
The Australian Principal Health & Wellbeing survey is now live for new participant registrations from 31 August 2022 at https://healthandwellbeing.org/AU. Ongoing previously registered participants have received their links but we ask that you encourage school leaders to contact us if their emails have changed. If participants are no longer in a principal role, we still encourage them to take the shortened survey.
The team appreciates your support and participation in this project. This research has significant impact in the diagnostic feedback given to school principals, the evaluation of existing policy initiatives, and the consultation with state departments leading to important new policy initiatives.
Sponsor Spotlight - B2 Architecture
B2's collaborative approach and understanding of pedagogy allows us to create contemporary learning environments that help school communities to think better, learn better, do better and be better.
B2 Architecture is a proud partner of the VACPSP and has a long and successful history of working collaboratively with the VSBA and MACS.
Prayer

Loving and Generous God,
Awaken us to your presence as we continue to discern what is life-giving, empowering and sustainable for the good of all Catholic primary principals and the school communities we serve.
May our inspiration and commitment deepen as we work and gather in partnership to reflect on and respond to your call, the vision of the Gospel and the voice of the Spirit.
As dedicated, faith filled educational professionals help us to work collegially, lead with courage, build authentic relationships, and respect the voice of all in ensuring every young Australian has the opportunity for an excellent education in great schools.
Support us through this sacred work so that we radiate a sense of hope, A love of learning and a commitment to formation in faith.
Pour out your abundant blessings upon all involved in the ministry of leadership in Catholic education, we ask this through Christ, Our Lord, Amen.
Conclusion
I hope you enjoyed this newsletter update and a snapshot of the actions, connections and programs that the Association supports, leads or engages with on your behalf.
As always, I not only welcome but encourage active communication between myself and members and look forward to engaging with you in person, phone or by email.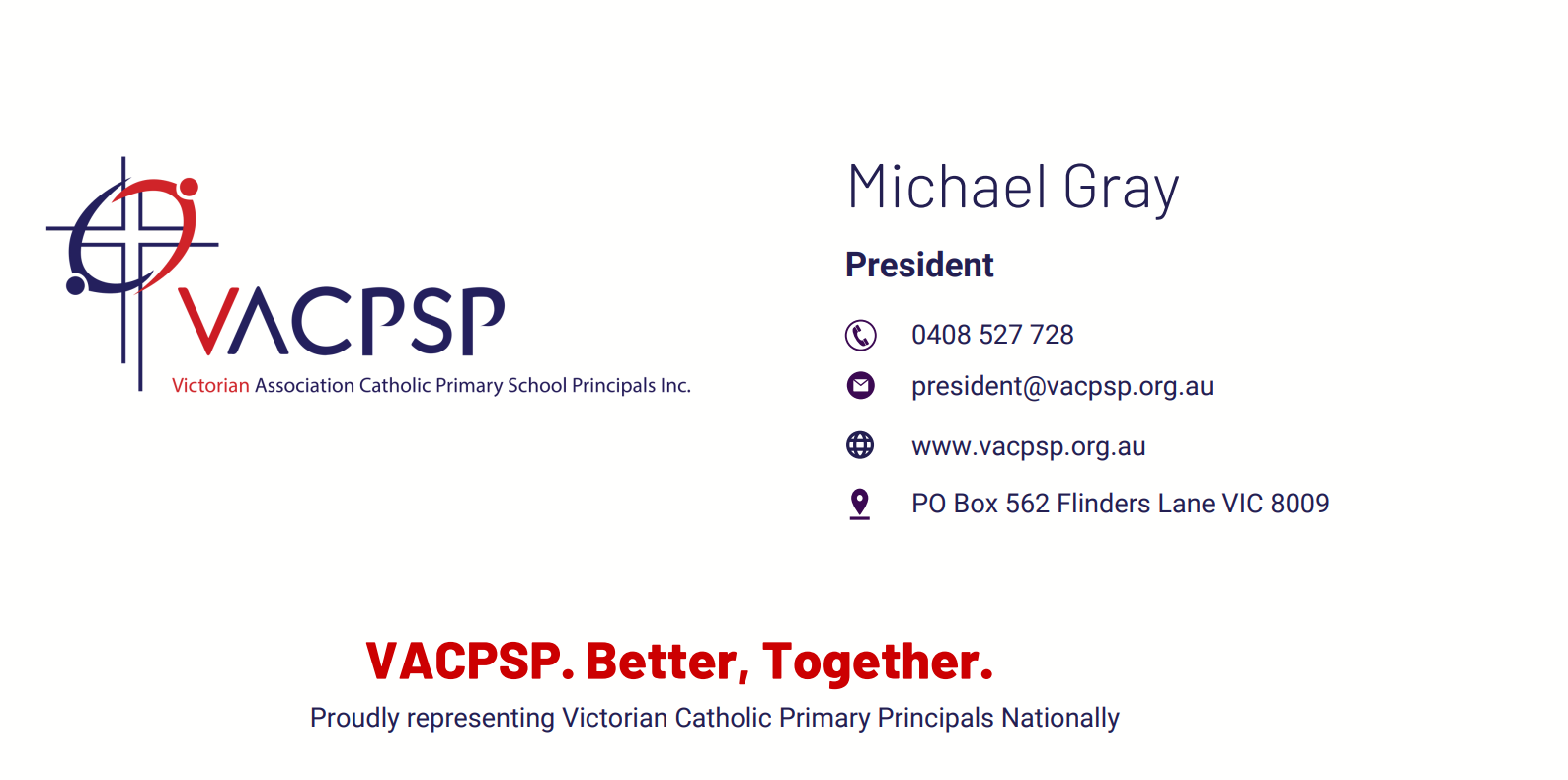 FOLLOW US ON SOCIAL MEDIA
Thank you to our Sponsors