Member Update 1 September 2022 | Term 3, Week 8
Welcome to Country
The VACPSP acknowledges the Traditional Custodians of the many lands that encompass our Catholic primary schools across Victoria – Ballarat, Sale, Sandhurst and the Archdiocese of Melbourne. The VACPSP recognise the Traditional Custodians culture and the continuing spiritual connection to land, sea and waters.

The VACPSP pay our respect to their Elders past, present and emerging and extend that respect to all Aboriginal and Torres Strait Islander peoples who live, work, teach and learn within Catholic education in Victoria.
We commit to working together to create culturally safe schools for all Aboriginal and Torres Strait Islander students to learn and thrive. As Principal leaders of our schools we commit to working together for reconciliation and justice.
From the President
Earlier this week the Principal Council met for our regular meeting. The Principal Council meeting is an opportunity for representatives from across the state to connect with the Principal national and state agenda; to discuss professional leadership and wellbeing, connect with our schools' purpose and to voice concerns
relevant to Principal professional life.

A key aspect of the VACPSP Principal Council meeting is discerning your advice and future directions of the VACPSP's work. I thank and acknowledge the work of the Principals attending these meetings on your behalf. Their commitment brings the role of Principal to life in many educational forums and association projects.

This week it was clear the EBA was at the forefront of many of your minds. The current situation is generating feelings of uncertainty, worry and concern about the practical implications of financing the potential conditions and preparing for 2023.

The VACPSP will continue its work in the forums we have access, to continue to bring the Principal perspective to this current negotiation. In addressing the further concerns of Principals, the VACPSP will build on our previous work, particularly the discussion paper; 'The Victorian Association of Catholic Primary School Principals Terms and Conditions.' We will continue to engage with you about the Principal role and welcome feedback on any concerns you may have.
Interested in being a Principal Council Representative? Please email me so I can provide you the relevant form.
Also in this newsletter:
* EBA Video from IEU
* National School Reform Agreement resources (further to last weeks newsletter)
* Wellbeing resources: "Be You"
* AGM information
*ACPConnect new activation video guide
* Principal Health & Wellbeing Survey information
* Sponsor Spotlight: Arthur Reed Photos
A quick note to draw your attention to the new VACPSP postal address. As of last week we have officially moved to:
P.O. Box 562, Flinders Lane VIC 8009
Moving school? Retiring? New email?
We do our best to keep the VACPSP database up to date to ensure we can best serve our members but need your help.
If you are moving, retiring or know someone who is please email admin@vacpsp.org.au with the details!
EBA: Video from IEU
National School Reform Agreement (NSRA)
At the recent APPA meeting, APPA shared two resources responding to the National School Reform Agreement: Matrix of Indicators and Curriculum.
In summary APPA contends:
Consultation

- Principals should be consulted

Funding

- primary school funding be the same as secondary

Interagency connection

- that whilst schools have a role in wellbeing support, a schools core focus must be learning

Accountability

- whilst schools must be accountable, there should be a variety of measurements for success (i.e. not just NAPLAN) and assessment should take into consideration system performance, not just individual children

Curriculum

- rather than a "top down" curriculum, the primary curriculum should be built from the bottom up
"Be You": Resource
The national mental health in education initiative is supported by "Be You", avaliable for schools and a great resource for wellbeing support.
The Strategy uses four focus areas to outline the requirements for an effective system of care for children: Family and Community, Service System, Education Settings and Evidence and Evaluation.
AGM
Please note VACPSP AGM is on 14 October 2022 and will be by video link. Details to be provided in due course.
ACPConnect Wellbeing Portal
Activate your account by emailing hello@acpconnect.com.au !
NEW guide to activation video: https://vimeo.com/742508214
The Australian Principal Health & Wellbeing survey
The Australian Principal Health & Wellbeing survey is now live for new participant registrations from 31 August 2022 at https://healthandwellbeing.org/AU. Ongoing previously registered participants have received their links but we ask that you encourage school leaders to contact us if their emails have changed. If participants are no longer in a principal role, we still encourage them to take the shortened survey.
The team appreciates your support and participation in this project. This research has significant impact in the diagnostic feedback given to school principals, the evaluation of existing policy initiatives, and the consultation with state departments leading to important new policy initiatives.
Sponsor Spotlight - Arthur Reed Photos
This week we were lucky enough to have Business Partners Arthur Reed attend our Princial Council meeting to take some new headshots and group photography for the new website.
We thank Arthur Reed Photos for this support as well as it's ongoing relationship with the VACPSP!
Pictured: Michael Gray (President) getting his new headshot.
Prayer

Loving and Generous God,
Awaken us to your presence as we continue to discern what is life-giving, empowering and sustainable for the good of all Catholic primary principals and the school communities we serve.
May our inspiration and commitment deepen as we work and gather in partnership to reflect on and respond to your call, the vision of the Gospel and the voice of the Spirit.
As dedicated, faith filled educational professionals help us to work collegially, lead with courage, build authentic relationships, and respect the voice of all in ensuring every young Australian has the opportunity for an excellent education in great schools.
Support us through this sacred work so that we radiate a sense of hope, A love of learning and a commitment to formation in faith.
Pour out your abundant blessings upon all involved in the ministry of leadership in Catholic education, we ask this through Christ, Our Lord, Amen.
Conclusion
I hope you enjoyed this newsletter update and a snapshot of the actions, connections and programs that the Association supports, leads or engages with on your behalf.
As always, I not only welcome but encourage active communication between myself and members and look forward to engaging with you in person, phone or by email.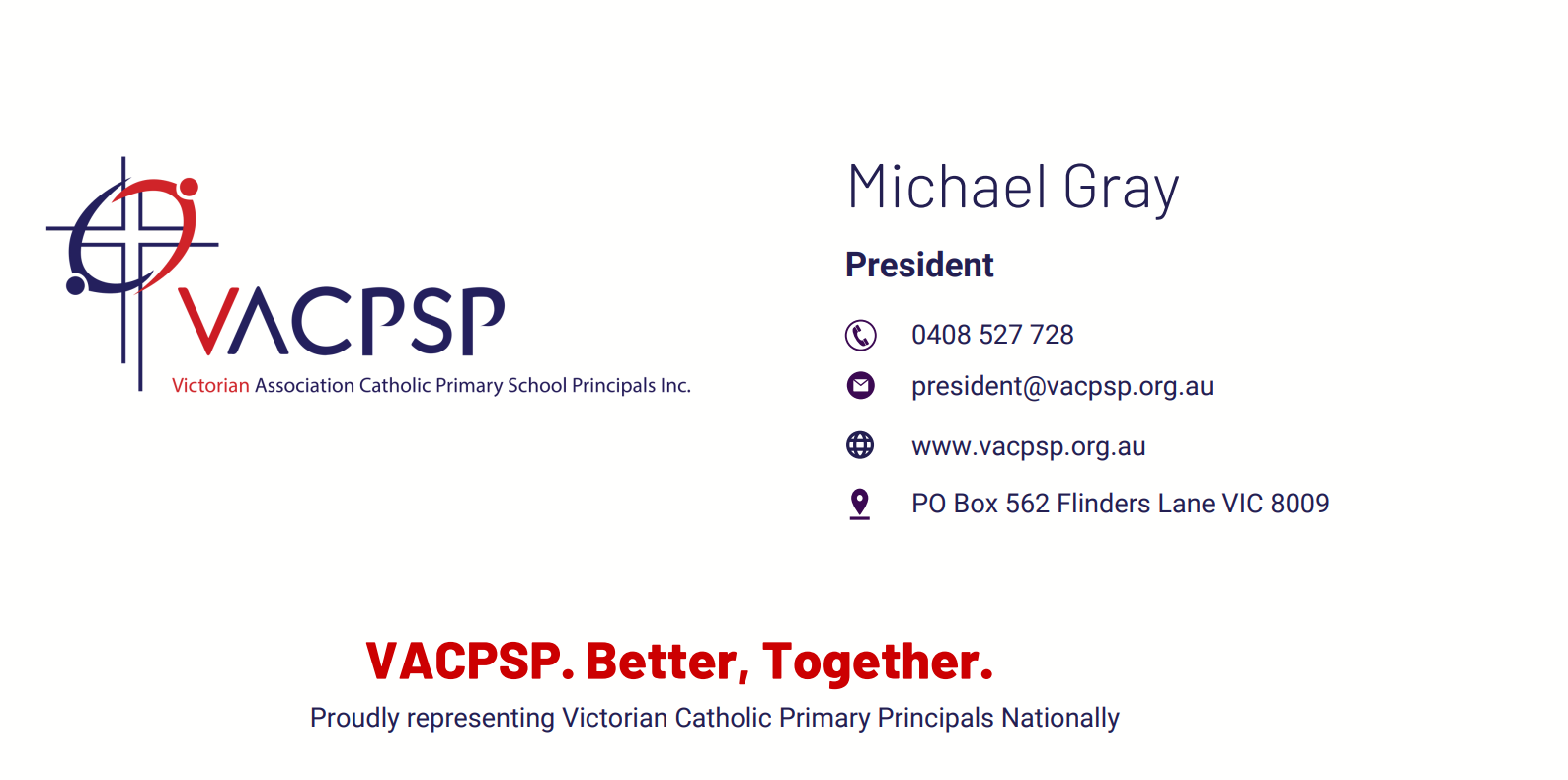 FOLLOW US ON SOCIAL MEDIA
Thank you to our Sponsors